A group of Iraqi men are cutting down a tree to use the wood for making a bonfire. Overwhelmed by the high numbers of people arriving to Greece, authorities can not give proper answer to all the refugee needs. Polykastro, Greece, January 2016.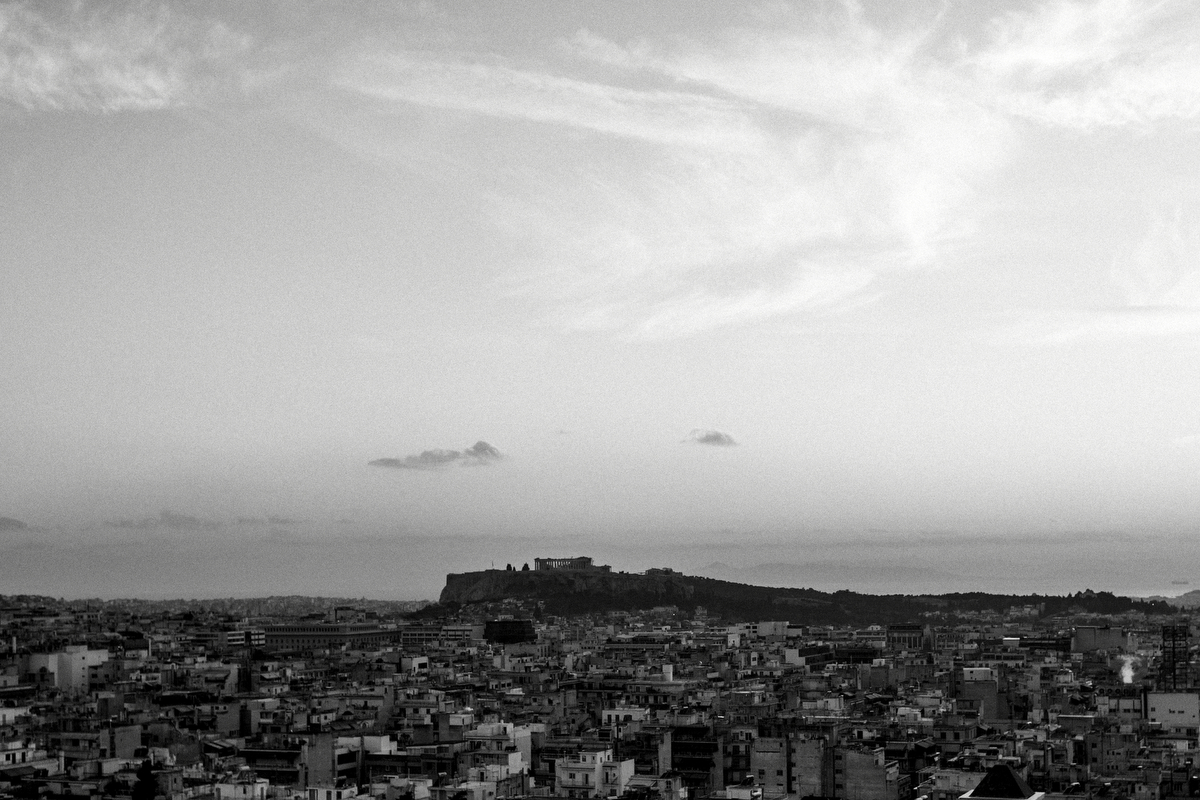 A view of Athens and its famous Parthenon from Exarcheia. This neighbourhood has been historically linked to anti government and antifascist movements. Nowadays it concentrates most of the squat houses in Athens, used as shelters by refugees that can not find a place inside a refugee camp. Athens, Greece, January 2016.
A group of afghans are waiting to cross the Greek-Macedonian border checkpoint in Idomeni. Greek police and Macedonian military has established a very tight control of the border, creating huge cues of people wanting to cross. After March 2016 this border cross has been closed. Idomeni, Greece, January 2016.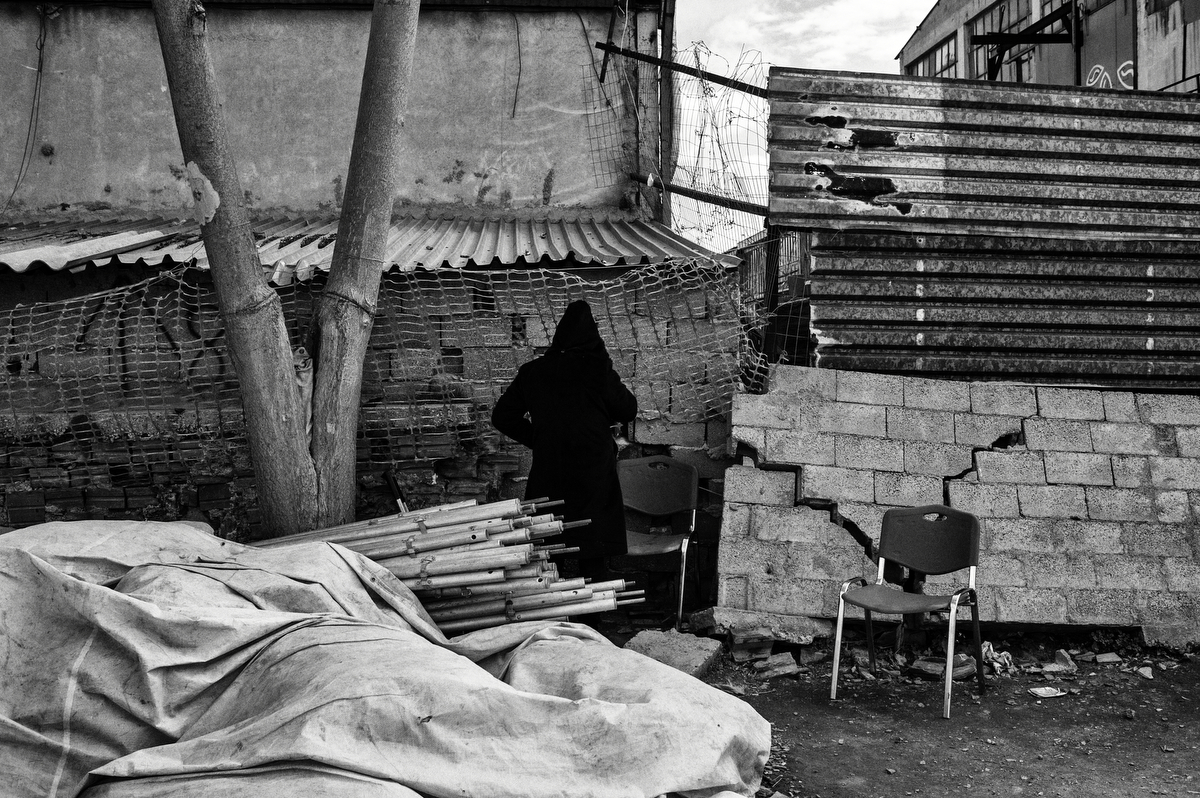 A refugee is trying to find the WiFi range service in Eleonas, a government owned refugee camp. This temporary camp, settled on the outskirts of the city, offers bunkhouses, health and legal care and a meal a day for all refugees. Athens, Greece, January 2016.
A NGO tent in Idomeni, packed with old blankets. "The lack of coordination between NGOS and government is heartbreaking, no one really knows what is going on, when we ask we can not get any clear answer about what it's really happening" Ahmed Moavia of the Greek Forum for migrants in Athens. Idomeni, Greece, January 2016.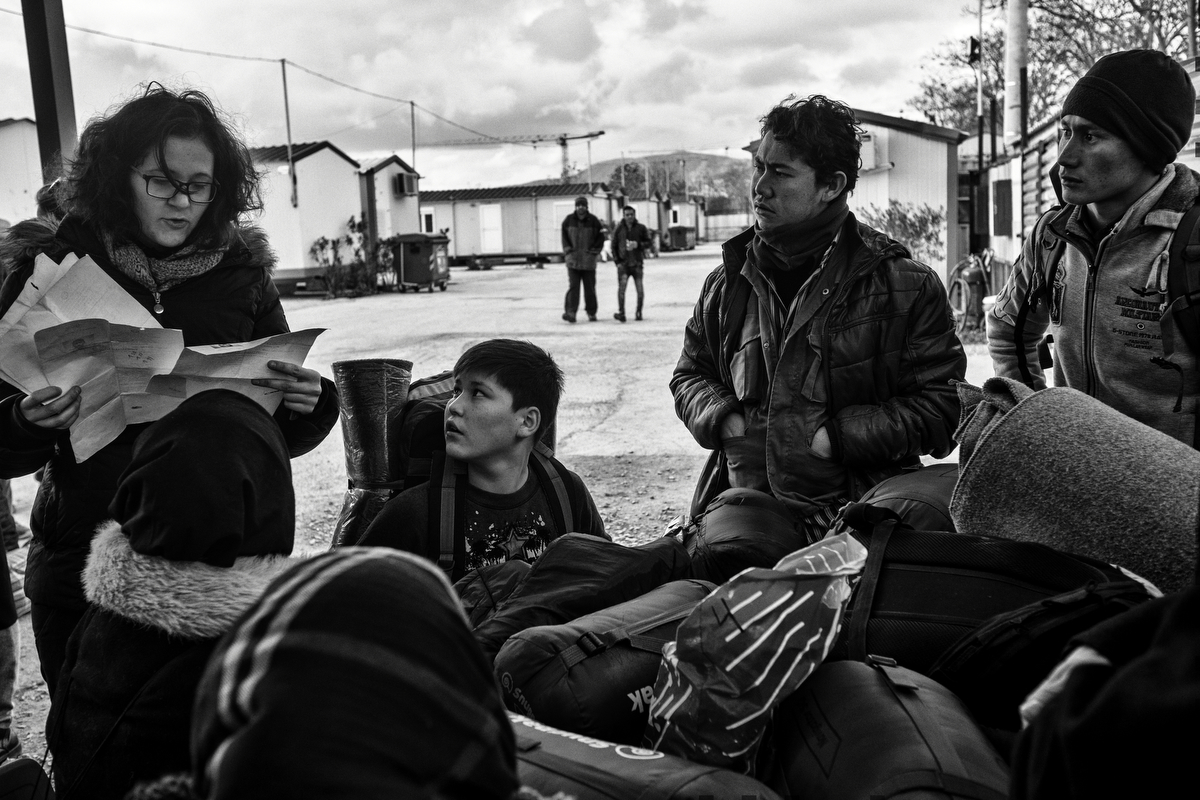 A family from Afghanistan has started the paperwork to stay in a refugee camp in Athens. Opened mainly as a family shelter, this open-doors refugee camp was designed for short stays but as all european borders are closed they have become the unwanted home for lots of refugees. Athens, Greece, January 2016.
Refugees heading to the ferry that will take them to Athens. The most used route by refugees in Greece is from Lesvos island, then boat to Athens and from there a bus to the northern town of Idomeni, in order to cross to Macedonia and continue towards Europe's big countries. Mytilene, Lesvos, Greece, January 2016.
Reza (20) is a refugee from Iran that arrived to Greece 5 years ago. Now he takes his free time to help another refugees translating paperwork in a refugee squat shelter. Impressed by the wave of people arriving to Europe he decided to get a tattoo with the phrase: "World without borders". Athens, Greece, January 2016.
Mahdi (30) left Iran and spent few months in Turkey where he ended imprisoned for working illegally. Now in Athens he feels trapped "I need money to pay smugglers to cross to Macedonia". As the european migration laws changed, smuggling is the only valid option to reach Germany for him. Athens, Greece, January 2016.
As refugees can not cross the Macedonian border their journey ends in Greece. Only opened options for them are rely on smugglers to cross illegally, stay in Athens and ask for asylum or ask for deportation to their origin countries. Athens, Greece, January 2016
Bank office in Idomeni's train station. With a deep economic crisis Greece is trying to manage the welcoming of a massive refugee influx. Thousands of people arrived everyday to this country that serves as the main gate of entry to Europe. Idomeni, Greece, January 2016.
Marian (28) and her husband arrived from Morocco 2 months ago. With all borders closed they did not have much options but to stay illegally in Greece. Marian's husband is now in jail as ilegal after he was spotted by police . Morocco ranks as the first country in Greece with most deportations. Athens, Greece, January 2016.
S. is dancing inside a bunkhouse in Eleonas, a government owned camp for refugees in Athens. In order to avoid the registration process S. prefers to sleep on the streets than inside the camp but still he comes everyday to talk with friends and get some food. Athens, Greece, January 2016.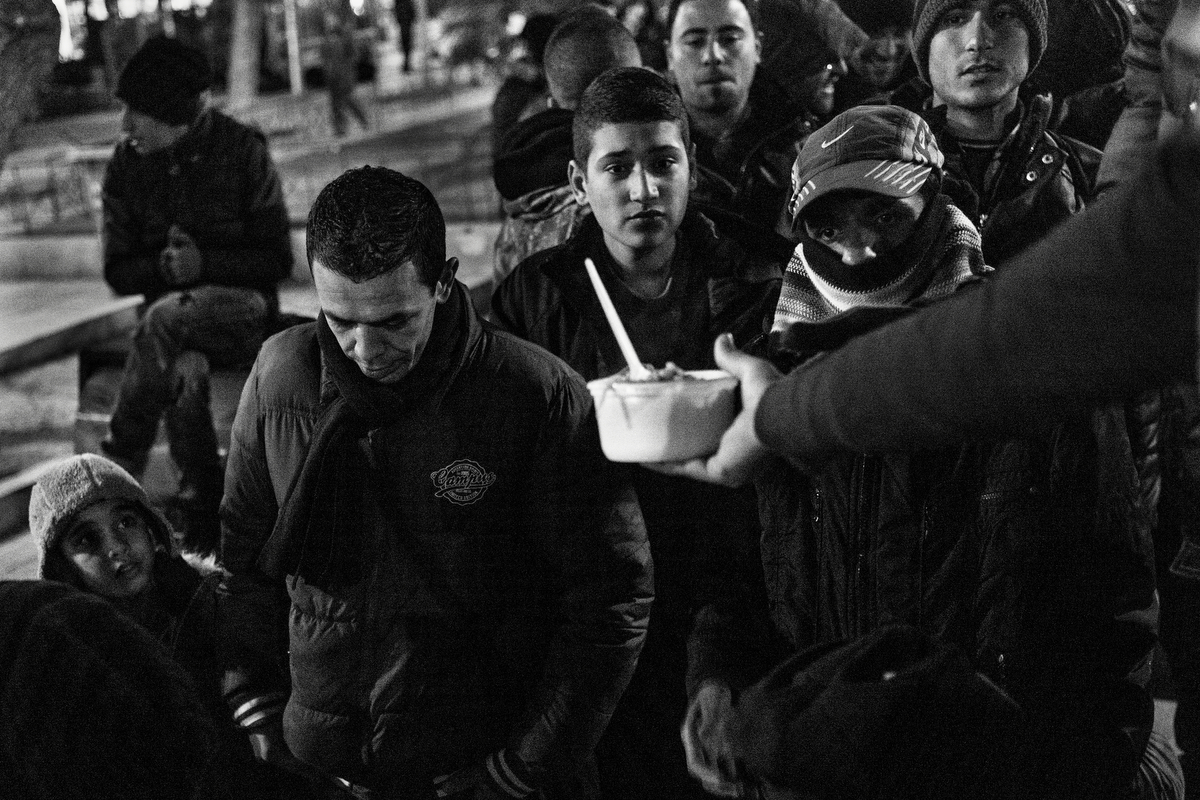 Despite the low temperatures of the winter, single men that can not pay for an hotel spend the nights at the centric Victoria square. Thanks to private initiatives food is given everyday. Local government has refused to give any kind of help here in a move to eradicate their presence in the square. Athens, Greece, January 2016.
There are no facilities around Eleonas camp to keep refugees busy. With an struggling economy Greece has not the power to cope with the great number of people stranded in the country. Athens, Greece, January 2016.
M. is calling to his relatives from Pakistan. He shares a bunkhouse with other single men from Morocco and Iran. People stay on the camps with no other options than wait to being deported or to get the asylum status, a challenging process that can take weeks or months. Athens, Greece, January 2016.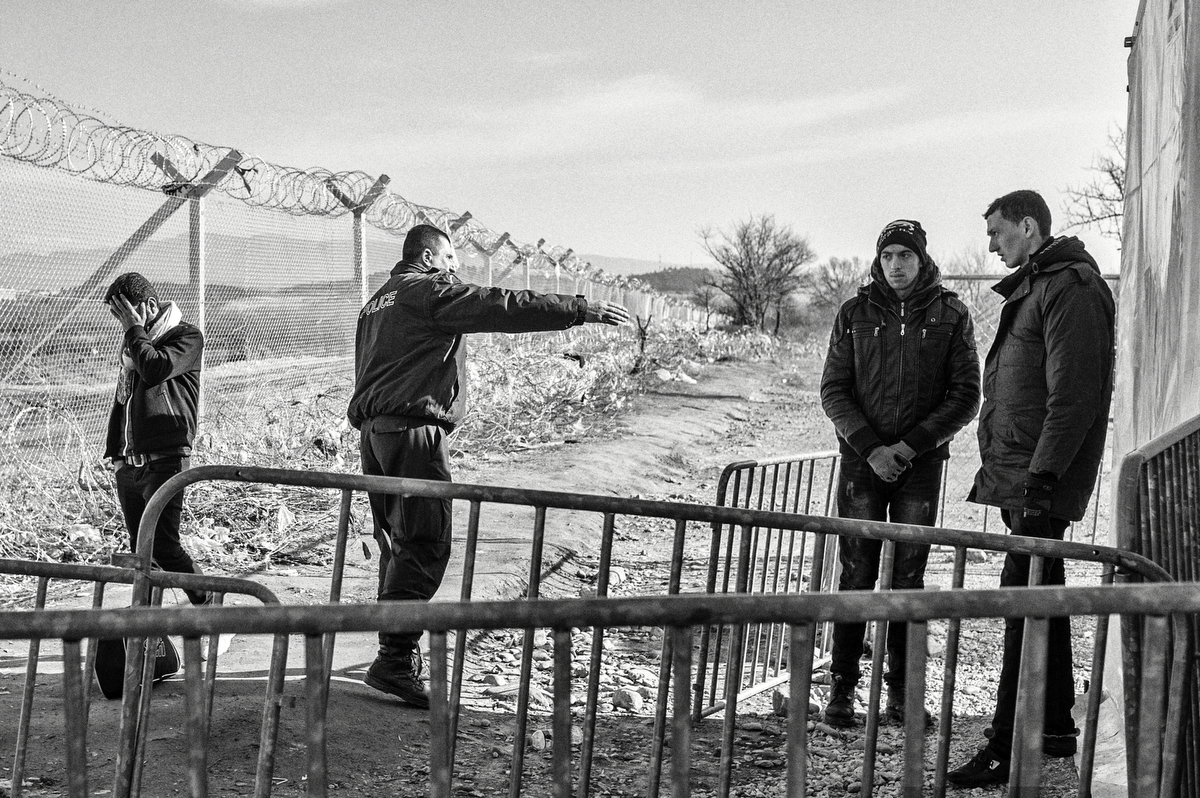 A Syrian man (left) waits to cross the border of Idomeni after he was separated from his family and friends. A problem with its statement was found by Greek Police and Frontex, an european agency that helps the greek government to control its borders. Since december 2015 border controls has tightened. Idomeni, Greece, January 2016.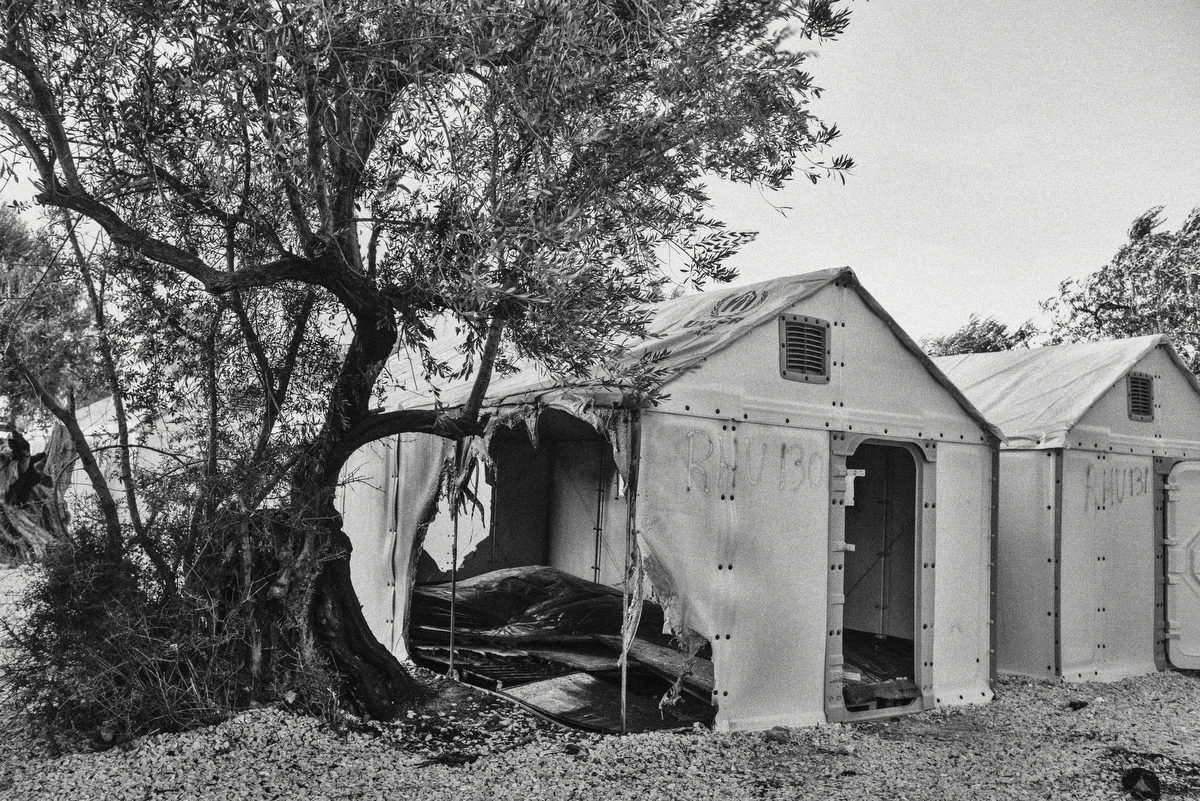 Kara Tepe is a family only refugee camp, owned by the Mytilene city council with the help of very few NGOs it runs at less than half of its capacity. The only valid option for single traveller men in the island of Lesvos is Moria refugee camp, a completely overbooked shelter with a severe lack of services. Mytilene, Lesvos, Greece, January 2016.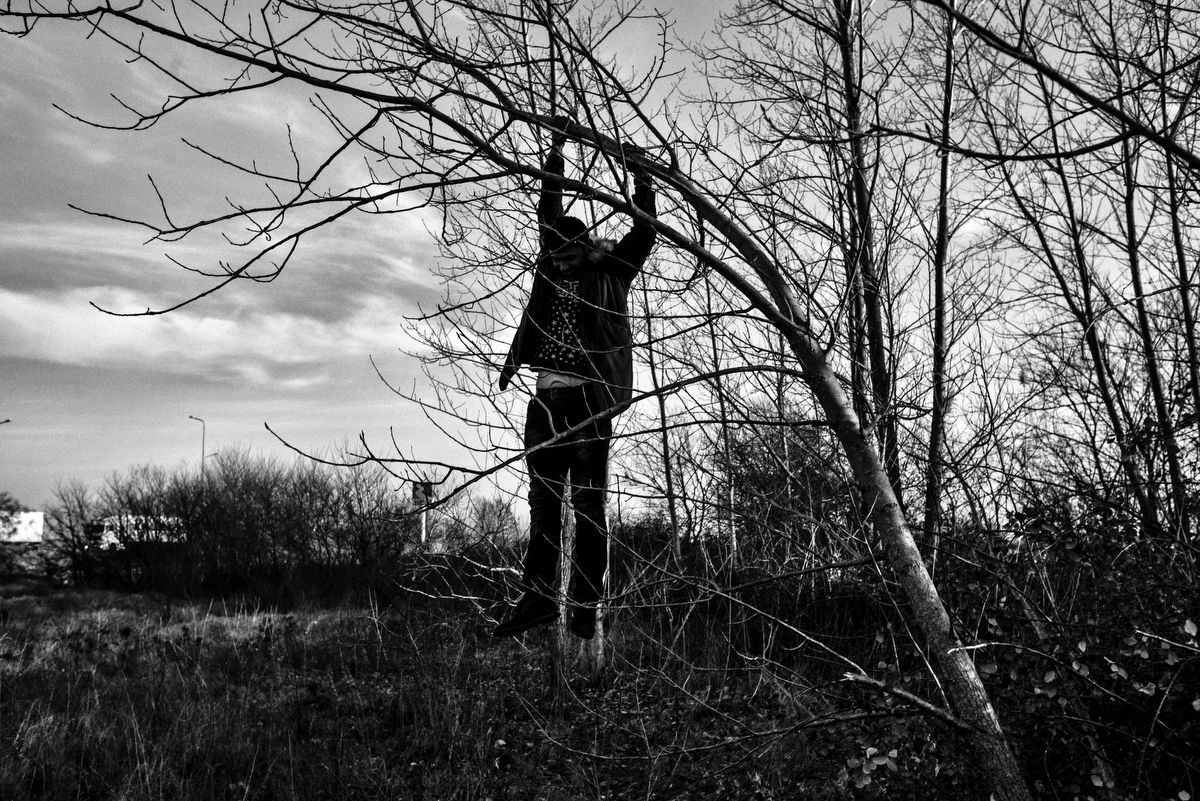 Stranded in Greece. Since the beginning of 2016 refugees trying to reach the wealthy european countries have being stuck in Greece due the change of european migration laws. Deportation, became a paperless person or get the very difficult asylum status to live in Greece are the only open options to them. Idomeni, Greece, January 2016.